1. File Restoration
Undelete files you accidentally trashed from your hard drive, USB drive, or camera's flash card with Restoration. Since deleting files from your PC doesn't actually delete the bits that make them up, undelete utilities like Restoration can scan "unused" disk space and cobble together fragments of files past. However, if your computer overwrites even a bit of the file, you're toast?but it should be your first stop the moment you realise you needed that file you just emptied out of the Recycle Bin.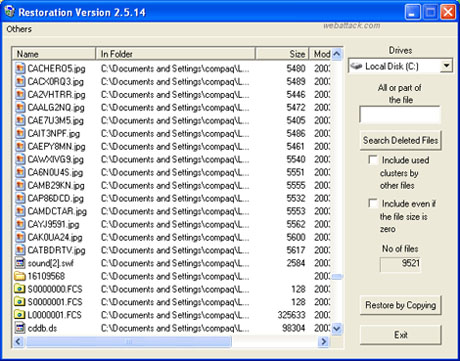 2. Duplicate File Finder
Are you running out of hard drive space? One way to save space is to deleted those duplicate files you have hanging around. The two programs below are great for scanning your hard drive (or specific folders) and identify which files are exactly the same. Especially great for deleting doubles or even triples of your MP3 or photo collection.
Download Doublekiller Here
Download Easy Duplicate Finder Here
3. Backup your files automatically

Automate your data backups with SyncBack freeware, a robust backup utility that backs up or synchronises data between your hard drive and an external drive or FTP server (for off-site backup.) Configure it to run at times you schedule, and get email notifications if something goes wrong.