We have efficient and accurate methods for monitoring servers remotely to minimise downtime associated with issues that are not identified in time to rectify promptly. We offer to monitor our clients' servers very closely on a daily basis at a reasonable cost, so we can identify and rectify most problems before you and your staff experience any reduction in productivity. As part of our monitoring process we also monitor the operation of your server's daily backup process. Backups can be an area which may be less than 100% reliable, especially where backup tape drives are in use. This is why there is no substitute for expert translation of your backup logs on a daily basis to ensure your backups are being created in a reliable manner.
A great deal of the work we perform for our clients is of a preventative nature because occasional hardware failures and software problems are part and parcel of modern computer equipment. Your business needs to be prepared for these events, and your disaster recovery plan should be in the hands of a capable and pre-prepared IT management provider, experienced in rectifying network failures in a timely manner, with a heavy focus on data protection and restoration.
Client/server network services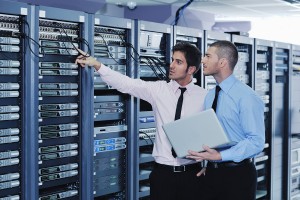 We specialise in building robust and highly productive business IT solutions based on Microsoft's Small Business Server software, which is a bundled suite of Microsoft server products including Microsoft Windows Server, Microsoft Exchange Server, Microsoft ISA Server, Microsoft SQL Server and Microsoft Shared FAX Service.
Our Client/Server network services include the following:
Server hardware and software sales
Business Technology Assessments (IT audits) and Network Design
New Server rollouts (including servers you may have already sourced from another supplier)
Server migrations
Remote Server monitoring and maintenance
Network maintenance and Critical Patch Installation
Problem solving and general network administration
Peer-to-peer networks
We also design, implement and maintain IT solutions using less 'feature rich' peer-to-peer network technology for lower budget situations. We recommend configuring 'peer to peer' networks with a view to upgrading the network to a client/server configuration in the future, which makes the migration cheaper when the time comes.
Fully equipped service centre
Repairs to all desktop and notebook brands
Rectification of Windows issues
Total virus and spy ware threat management solutions
Notebook performance upgrades
Network Server repairs, rebuilds and upgrades
Printer repairs
Helpdesk (trading account required)
Phone Support

Remote Control Support for Servers and Workstations
Email support
Contact us now for pricing or to establish an account to access our support services
Onsite support

IT Infrastructure assessments for new customers
Network Design
Network Security Audits
Wireless Networking Solutions
Remote Access Solutions
Automatic and Manual Data Backup solutions
Disaster Prevention and Recovery
Broadband Internet & Printer Sharing
Router configuration
Remote Network Monitoring
Remote installation of critical updates
New server installations/rollouts
Server migrations
Security Solutions to protect data from inside and out
Email and domain name solutions
Peer to Peer network installation maintenance and support
Firewall setup and management
Desktop faxing solutions
Business grade internet connection solutions